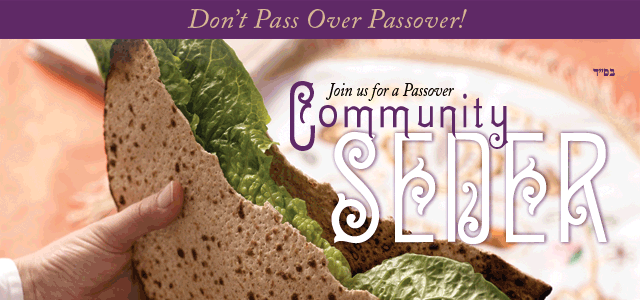 Join us for a Passover Seder you will remember for a lifetime!
Join us for our community Passover Seder and enjoy as the story of exodus comes alive through mystical meanings, humor, story and melody shared by community members. Special emphasis will be made to invite children's participation.
 

English/Hebrew Hagaddah

Fine wines: red, white, sweet & dry

Handmade Shmurah Matzah
First Seder: Friday, April 19 at 7:30pm
Second Seder: Tuesday, April 20 at 8:30pm
at Chabad Jewish Center of Jupiter - 1209 Main St Suite 110
Adult $60, Child $30 (Paid by April 15) 
Adult $70, Child $35(After April 15)
Kindly reserve by April 10.
*reservations are confirmed through advance payment,  requested for catering purposes.
Sponsorship Opportunities 
Silver: $180 Gold: $360 Main Sponsor: $1,800